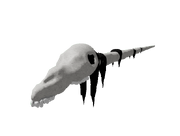 Long Horse is a harmless Cryptid conceptualized by artist Trevor Henderson. It is the only harmless Cryptid in Cult Of The Cryptids.
Long Horse is a long and lengthy bony creature. Its head appears to be a horse skull connected to a long bony neck.
Stats
Long Horse doesn't have set hp, or damage, meaning you cannot kill him and he will not attack you. Instead, being near him will quickly regenerate player health.
Location
Long Horse spawns and moves around Satan's Tunnel. He is easy to find as it is very long.